Liverpool look to strengthen their squad and improve chances of finishing in the top four. One significant position that needs to be reinforced is the right wing. Over the years, Liverpool had numerous decent right-wingers but it is fair to say that the last one to excite the fans regularly and win games with sheer quality and talent was Steve McManaman.
Players like Kewell and Luis Garcia did well for the club, even Captain Steven Gerrard was also deployed at the right wing and he is one player who can probably play in any position but again wing is not his natural one to unleash on defenses. Soccerisma explains the "Right Wing" dilemma faced by Liverpool Football Club and why they must find a solution.
Kuyt was not a natural winger with dribbling abilities or pace, still the Dutchman's work rate and never giving up attitude were effective for Liverpool and made him a fan favorite. Kuyt, who scored in 2 of the 3 finals he played for the club left for Fenerbahce after a season where he did not start as many games as he should have. Kenny Dalglish preferred young Henderson who couldn't help the reds much. Kuyt will be 32 this month and perhaps his best days are behind him so may be his departure was inevitable but Liverpool still have to sign a quality player to replace him.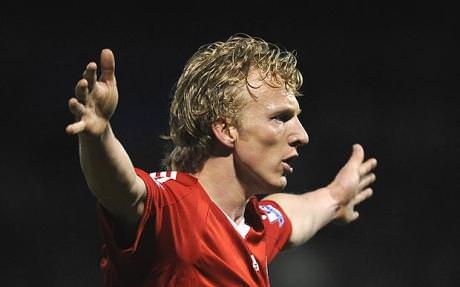 Signed Last year for a hefty transfer fee but Henderson failed to live upto the expectations. One may say that he is young can still prove to be fruitful for the reds but the only way it is possible is to play him in the center midfield. Henderson thinks he can play at the right wing but he doesn't have good crossing ability and no dribbling skills to provide the x factor needed.
He had decent outings as a center midfielder still Dalglish more often started him as a winger. Henderson constantly played bad and retained his starting place as Kenny hoped he will come good on the right side but that did not happen. Rodgers must not repeat the same mistake and must play Henderson in center midfield. The competition for starting places is high there but that will only improve him and Liverpool will be able to get the best out of him.
Stewart Downing, the most expensive Liverpool signing last summer brought so many expectations with him. Sadly, he proved to be the worst one and had a horrendous season last year. The former Villa winger could not replicate his Aston Villa form that won him player of the season in 2011. Downing has a weak right foot and mostly cuts back on the strong foot while playing on the right wing.
His horror stats need no reminder at all. Downing is an experienced player but the pressure at Liverpool is at another level and he could not deliver. Whether or not Rodgers sticks with him, only time will tell but considering his performances in the red shirt, Downing has been largely ineffective.
Liverpool have to strengthen certain positions after an unsatisfactory season last time around. The club has been linked with players like Adam Johnson and Daniel Sturridge who can play on the right wing and add quality. However, reports do not suggest that the reds are close to signing any of them. Dempsey is linked, but does he really excite the fans? Rival teams have already started reinforcing their squads and Liverpool need to sign a top quality right winger to bolster their chances of finishing in top 4.
Follow Soccerisma on Twitter: Soccerisma